Quick Catch-Up: DJ Sprinkles
Terre Thaemlitz on family values, the aggressive machismo of brostep and the other DJ Sprinkles.

- Selim Bulut


In Dummy (UK), September 17 2013.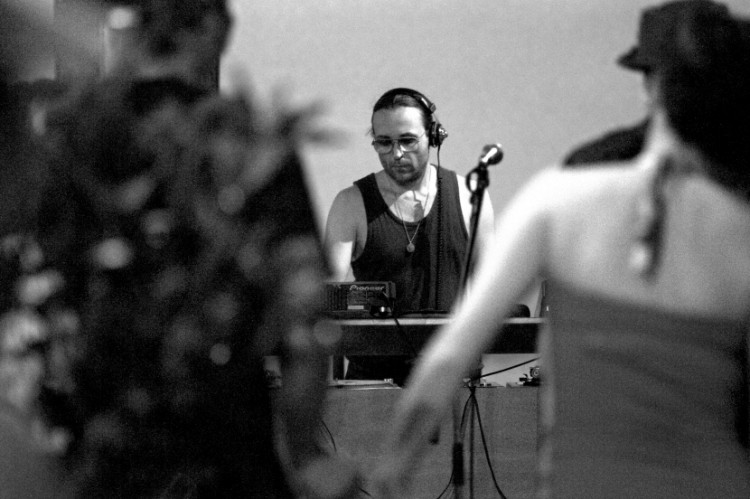 US-born, Japan-based DJ Sprinkles is the most recognisable alias of artist and musician Terre Thaemlitz. Thaemlitz has been releasing records since the early 1990s, but it was 2009's 'Midtown 120 Blues' that cemented a reputation for bold, politically and philosophically enquiring deep house. Last year saw the release of the exhaustive 'Soulnessless', a high profile release more for its concept than content - amongst other things, 'Soulnessless' sought to push the MP3 format to its absolute limits, with its central track, Meditation On Wage Labor And The Death Of The Album, lasting almost 30 hours.
Thaemlitz is also one of the most eloquent (and funny) speakers in music today, able to talk and write in-depth on topics including social and identity politics and media consumption, something that tends to make any interview an insightful read. As we've learnt here, sticking to the even most simple of questions can lead to brilliant and genuinely hilarious insights.
DJ Sprinkles will be playing at London's Oval Space on October 25th with Ripperton and Ian Pooley. Ahead of that show, we had a quick chat with Thaemlitz.
Hi DJ Sprinkles, how are you?
Thaemlitz: "I love in-depth journalism. [Laughs] Doing fine, thanks."
What sort of "headspace" would you say you are in right now?
Thaemlitz: "I'm about to leave Japan for New York in the morning, so a bit distracted at the moment."
You're playing Oval Space in October - have you noticed anything that sticks out in London crowds in particular?
Thaemlitz: "The world of UK club doormen seems divided between total sweethearts and rough, over-reacting assholes... with very little middle ground."
I've always liked the name DJ Sprinkles. Where did it come from?
Thaemlitz: "I started using the name 'Sprinkles' in the late 1980s, after seeing a television commercial for an instant cake mix that contained candy sprinkles. The announcer's voice said, "With Sprinkles in the Mix!" It was like a weird hip hop DJ shout-out. At the same time, it made me think of Annie Sprinkle, who was doing some rather tragic performance art in the East Village at the time, which was where I lived. So it was kind of a cake batter-inspired tongue-in-cheek reference to her... whatever that means. I have no idea. The things we do when we're young, right? The main thing was that it was a faggy name that didn't sound like the macho DJ names of the day.
"Speaking of young, I noticed a year or so ago that there is some teenager from the US using the name DJ Sprinkles on YouTube and Soundcloud. I assume it's just some kind of coincidence, because he's into shit like Skrillex, and not into house at all, so I can't imagine his name was inspired by me. Although, maybe he's goofing on my name like I goofed on Annie Sprinkle. But it makes me wonder how many people search on 'DJ Sprinkles' and mistakenly think his dubstep tracks are mine. On the one hand it's maybe funny, but on the other hand I hate it because I have absolute disdain for dubstep. I can honestly imagine a promoter being confused. But that's also kinda funny, right? Actually, the really weird thing is that this kid's friend apparently goes by the name DJ Twinkle, or Twinkles - one of those - and the name of my cat in New York was Twinkle. Kinda scary, like a ghost story from a girls' slumber party, right? I'm not a member of YouTube nor Soundcloud, so I have no way of contacting him and asking what it's all about, but I think it's really weird and would love to ask that DJ Sprinkles the same question you asked me."
I would love to hear your thoughts on why you have so much disdain for dubstep. I assume we're talking about the bastardised, commercialised version of dubstep?
Thaemlitz: "Well, yeah, it's just too macho and aggressive for me. In most of the world it's just music for angsty, straight, often overtly homophobic, suburban, usually white, teenage boys. Socially, it's kind of filled the audio void that used to be filled by industrial dance music in the '80s - Ministry (post 'Twitch'), Nine Inch Nails, all the old Network records stuff, etc. In the end, both industrial and dubstep are just electronic music for rockers. I know people in the UK are quick to get all super-nuanced and uptight about every little branch that's sprouted on the drum and bass tree over the past two decades or so. And I am not totally deaf to those nuances. I think the more interesting aspects of that audio tree come from people who arrived at their sounds from the electronic music side, rather than those who are also into alterna-punky-rock shit, or suburban white kids into gangsta rap. But it's really uninteresting for me, sonically and culturally."
What are you working on now and will it be anywhere near as ambitious as 'Soulnessless'?
Thaemlitz: "I sure hope not! [Laughs] I am in the preliminary research stages of a new electroacoustic album with video along the lines of 'Lovebomb' and 'Soulnessless Cantos I-IV,' which will be a critical analysis of family structures, and a defense of non-reproduction (not having children). I have also started a new house project to be released under a new alias (most likely through Comatonse Recordings, although possibly elsewhere). But I won't really have time to seriously work on either of the new solo albums until 2014. Meanwhile, I've just finished up some remixes for Francis Harris and Vakula. The Harris mixes will be out this year, along with his new album. The Vakula remix will probably be out in 2014, along with mixes by Kuniyuki and Joe Claussell."
So that album sounds really interesting but I don't want to ask any more questions about it if it's still in its early stages. However, I am curious to know what your usual research methods are for an album.
Thaemlitz: "It can really vary. Usually the order of things is that I stew an idea in my head for a year or so, then start working on audio, then write some text to help me clarify what I've been doing, and lastly do some videos around the audio and text. But it doesn't always work that way. For example, a lot of the cantos in 'Soulnessless' started with video footage and field recordings, or text."
DJ Sprinkles will play Oval Space on October 25th with Ripperton and Ian Pooley. Oval Space are offering Dummy readers an exclusive ticket offer - enter the promo code 'OSMDUMMY' on the Oval Space website to buy a ticket at the reduced price of £12.50.