DJ Sprinkles in London
Love Fever Studio Party with DJ Sprinkles

Rating: ★★★★★ (5 of 5)

- Benji Lehmann


In Resident Advisor (Australia/Germany), April 12 2011.


What is it that makes a good party? There are thousands of DJs, quite literally, who have attained a profile enough to attract a few punters on a Saturday night, venues are now more plentiful than ever before and anyone who owns a copy of Photoshop can mock up a flyer. Standing apart, then, is harder than ever. Which is why Love Fever seems so special. They offer a different kind of party, describing their events as "uncompromising" and "audacious," promising special care and attention to the party's ambience, sound system, lighting and décor.
On this occasion, their guest for the night was Terre Thaemlitz, AKA DJ Sprinkles. Thaemlitz's Midtown 120 Blues was 2009's best album according to RA, and his recent reissues on Skylax have also been received rapturously. Concurrently, Thaemlitz is equally well-known as a speaker and activist concerned with transgender politics, but this dual identity has not prevented him from achieving critical acclaim in both fields.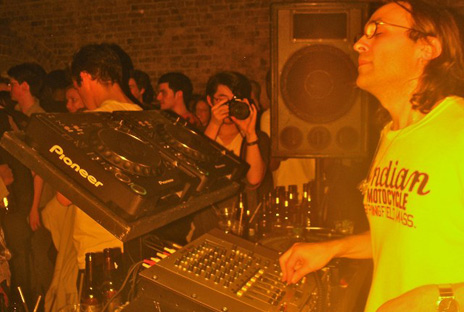 Photo credit: Sophie Marie Collins
The East London photographic studio that housed the event had never been used before for a party of this kind. It consisted of two arches, one so huge that half had been cordoned off for the night to contain the atmosphere, and the other smaller, contained the bar. The larger of the arches sported a mezzanine from where guests could observe the DJ in the far part of the room and the white fabric orbs that had been suspended from the ceiling for the night. The guests ranged from suits on their post-dinner night as well as Love Fever's more alternative regular crowd who were dressed in costumes reminiscent of Studio 54 glitterati. It made for a healthy mixture.
Impeccable sound was made possible by the deployment of a well-chosen soundsystem for the evening. It was never driven to its limit, and the room's natural warm acoustics seemed to suit the DJs on the night excellently. Love Fever resident Alex Bradley did a great job of preparing the crowd up with some well-chosen deep house before Sprinkles appeared behind the decks. Thaemlitz proceeded to draw gasps of admiration as he eased through some recent productions, including his own "Motorik Life" remixes that will soon appear on Skylax Records, before building into some of his better known pieces like the blissful and serene "Ball'r (Madonna Free Zone)" on Mule Musiq. There were few surprises but the sea of glowing, smiling faces before him paid testament to what will surely be remembered as one of the best parties of 2011 in the UK capital.