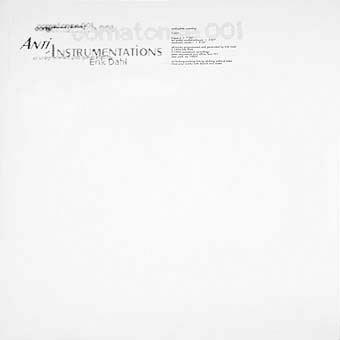 erik dahl anti-instrumentations
アンチ・インストロメンテーションズ (1995)
Erik Dahl: Anti-Instrumentations | 12" Vinyl EP | Released 1995 | C.001
Fugue.2 7:30
Les Ondes Mathematiques 5:45
Stochastic Etude.1 8:30
1995 Press Release
"Comatonse.001: Anti-Instrumentations as Programmed and Generated by Erik Dahl" is strictly the product of computer generated synthesis. No traditional musical instruments, electronic or otherwise, contributed to its production. The three pieces which comprise C.001 ("Fugue.2," "Les Ondes Math士atiques," and "Stochastic Etude.1") take the listener beyond the collapse of Western composition and scale, riding the bleeding edge of audio technology. Dahl's diversity and eclecticism pushes the genres of Ambient and Chill to their outermost extremes, leading New York-based aural experimentalist Tetsu Inoue (FAX Label, Germany) to describe C.001 as "brilliant and refreshing."
C.001 is a historical document in that it contains the first compositions generated using Csound.PPC running native on a PowerMac (ported to the PowerMac platform by Dahl himself). Csound is a "C"-based programming language used to generate and modify streams of numbers which represent audio signals. These representations are then written to a sound file format which can later be converted to sound by an independent program.
All three tracks had previously only enjoyed exclusive play in live performances by Terre Thaemlitz (Comatonse Recordings / Instinct Records) and Inoue, but are now available to Chill-room DJ's through this limited pressing on audiophile vinyl. C.001 was mastered using Direct Metal Mastering (DMM) to produce the cleanest mastering plates possible, and was pressed on 100% "virgin" vinyl (contains no recycled plastics). This means greater dynamic range and reduced noise during playback.
Recorded at: Recent Consummation.
Produced, mixed and arranged by Erik Dahl
(c)(p) 1995 E. Dahl
Design by Terre Thaemlitz
No fucking-sucking-licking-sticking without latex
Rinse your works with bleach and water
Do not attempt using any part of this product as a safer sex device