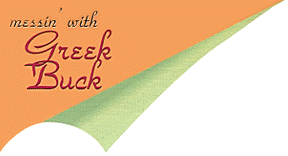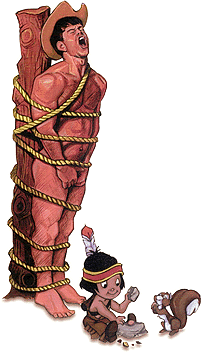 greek buck messin' with greek buck
メッシング・ウィス・グリークバック (2000)
Greek Buck: Messin' With... | 12" Vinyl Album | Released 1998 | Canada: Greek Buck GLOP002
A
Sound Where There Has Been Silence
Your Butt Is Love with accompaniment by Kevin Lynn
Malibu Peach with accompaniment by Caroline Azar
Pontiac Super Mewtron with accompaniment by Kevan Byrne
The New Dusty Box
4:05
8:23
3:29
6:37
1:27
B
Pontiac Teddy Stud
The Music Lover's Butt Is Love
Two Minutes Silence
Bearsuit with accompaniment by Hugh Ball
Orgasm Edict with accompaniment by Al Okada
6:34
2:13
2:00
3:53
7:37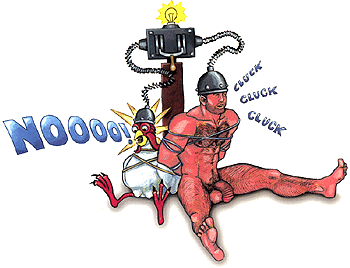 Toronto's Greek Buck debut with the opulent and exhilarating Messin' With Greek Buck, a self-produced vinyl-only tour-de-force, the magnitude of which was only hinted at on their cassette and 7" single released under the moniker Barely Pink (Ultra-red of the bizarro world?). The album frappés sampler, synth, live instrumentation and a couple of vocal performances into a melange of pop-based noise. The spectrum of moods range from spooky balladeering to sheets of jaw-clenching racket - with smart, sexy pop songs and groovy ass-shakers falling somewhere in between.
Greek Buck is Don Pyle and Andrew Zealley.
"A strange journey through Mouse On Mars-style left-field electronica, wet dream pop ('Malibu Peach' sung by Fifth Column's Caroline Azar), a gloomy cover of the Tindersticks' 'Bearsuit' and a climactic tribute to Swans, 'Orgasm Edict' (featuring King Cobb Steelie guitarist Al Okada). Separating these disparate elements are short tracks of drones, 'The New Dusty Box' and silence - a 'cover' of John Lennon and Yoko Ono's 'Two Minutes...'"
- Chris Twomey, Exclaim!

"Negativland through rose colored glasses. If 'mice are from Mars,' Greek Buck is from Venus."
- Terre Thaemlitz
Other Greek Buck releases we carry: Buckquiem (Canada: Greek Buck, 2000, GLOP-004 CD), in memory of artist Robert Flack; and the No Time mini-album.
Artwork by Rob Clarke.